Grain and Crop Stores
Grain & crop stores are subject to large horizontal forces due to the angle of repose of the grain. The lower the angle of repose the higher the horizontal loading.

MAGNA BUILDINGS Ltd
Our steel framed grain store buildings are structurally analysed to size the main steel
members but, just as importantly, to ensure the correct detailing of the connections.
Bracing and eaves ties require particular attention.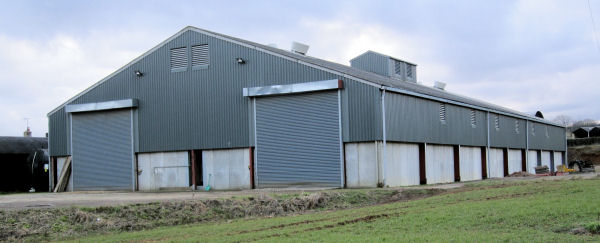 2,500 tonne grain store with penthouse.
23m span x 8 no. 6.1m bays with 3m high concrete.
As well as supplying the superstructure we can also construct the reinforced concrete floor slab with or without "below floor" ducting.

We supply electric or manual roller shutter doors. Doors can be fixed externally with a weather hood or fixed on the inside of the building. A separate personnel door is recommended. Doors are supplied with brush strips at the top and compressible rubber seals along the bottom runner to deter vermin.
Type of
crop
Density
Tonnes
per cu.
meter
Angle
of
repose

Potatoes
Apples
Fertilizer
Barley
Oats
Wheat
Oilseed
rape


0.70
0.85
1.00
0.80
0.60
0.80
0.65



35
30
35
30
30
30
25



We supply pre-cast concrete wall panels designed for grain loading. Usually these panels span horizontally (typically 6.1 bay centres).
The panels are supplied 0.6m, 1.0m, 1.2m or 1.5m wide and are laid above each other to acheive the required height.
Along the top of the panels we supply a grain overspill flashing which also closes the gap between the top of the panel and the side sheeting.
1500 tonne grain store
23m span x 5 no. 6.1m bays with 3m high concrete panels
500 tonne grain store
14m span x 3 no. 6.1m bays with 3m high concrete panels

Tel: +44 (0)1451 831855 Fax: +44 (0)1451 830165 E-mail: general@magnabuild.co.uk
Blackpitt Farm, Oddington, Moreton in Marsh, Gloucestershire. GL56 0XW